Acquisition and Supplier Resources
Small Business Programs Office (SBPO)
JPL is committed to the maximum utilization of small businesses; small disadvantaged businesses; women-owned small businesses; HubZone businesses; veteran-owned small businesses; service-disabled veteran-owned small businesses; and Historically Black Colleges and Universities (HBCU) and Minority Institutions (MI) in the subcontracting of services and supplies. The Small Business Program Office serves as the conduit between JPL and subcontractors and/or companies seeking procurement opportunities.
The Small Business Programs Office helps small businesses think BIG. We are passionate about developing successful partnerships between JPL and companies by:
Promoting and increasing awareness of the capabilities of small businesses
Matching small businesses to open and future procurement opportunities
Advocating for underutilized businesses and promoting supplier diversity
Providing outreach services which encourage growth and development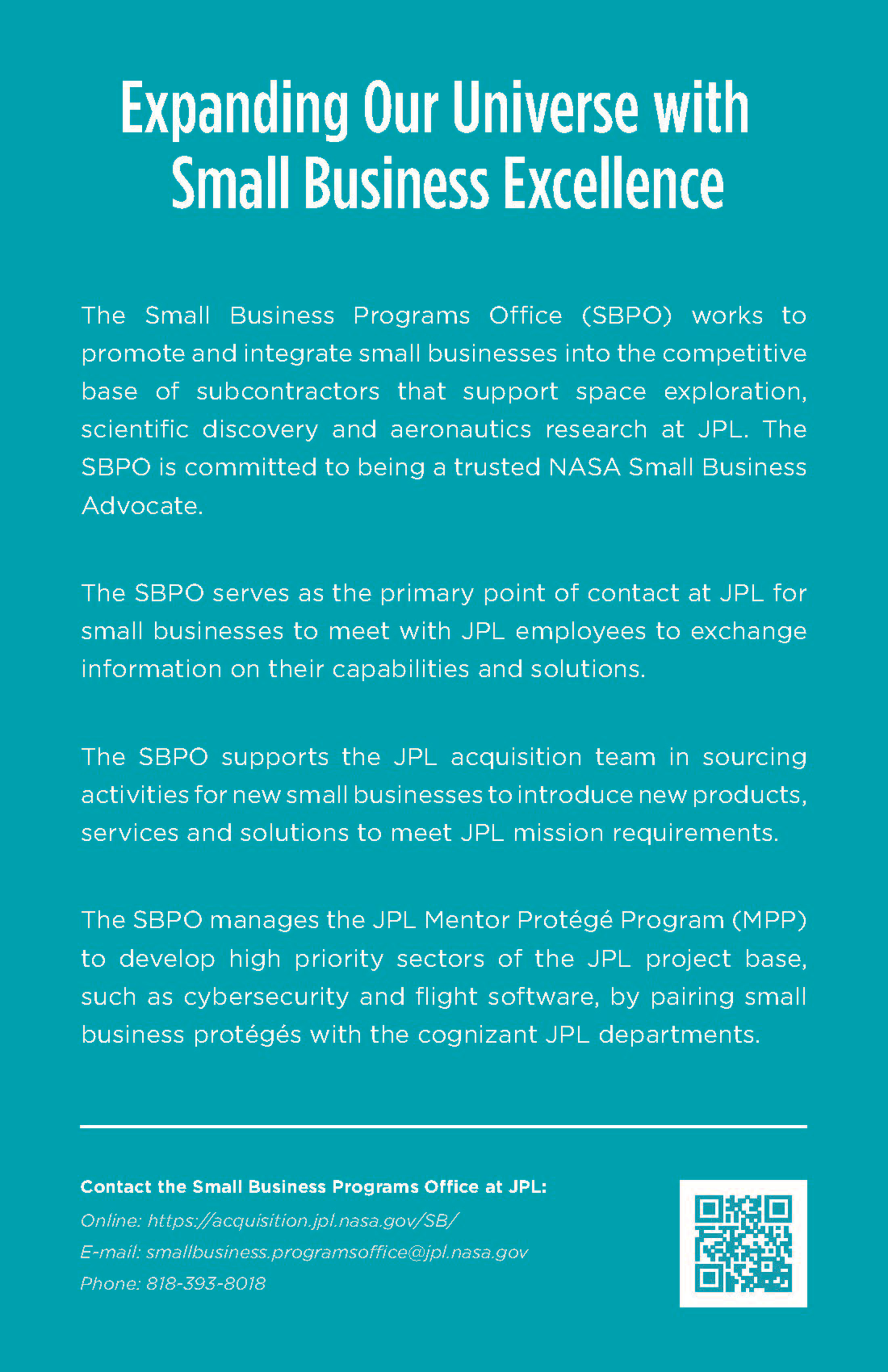 Small Business Programs Office (SBPO) Products and Services
SPBO Connection Corner: The Small Business Program Office schedules 30-45 minute business-building appointments Monday through Friday. Small businesses discuss the products or services they offer with a JPL SBPO and technical staff member. This dialogue allows for interaction and communication within the small business community and potential JPL end users. To schedule a meeting, please contact the Small Business Programs Office at 818-393-8018 or smallbusiness.programsoffice@jpl.nasa.gov.

Product Demonstration: SBPO will coordinate small business product demonstrations designed to provide prospective suppliers the opportunity to market their products and services to JPL end-users. Companies will be selected to participate in a demo based on the applicability of their products or services to the needs of JPL's missions, research and institutional operations. It is an opportunity for companies with unique science and technology capabilities to present their products and services to the technical community.
Request a Product Demonstration
Mentor Protégé: The SBPO oversees the JPL mentor-protégé program. The goal of the program is to provide participants with exposure to the JPL technical community which could provide possible enhancements to their company.
JPL Mentor Protégé Guidelines
Submit an Unsolicited Proposal: The JPL unsolicited proposal process is defined as an opportunity to submit an innovative and unique idea, technology or perform work by a small or large business. It must be independently originated and developed by the proposer and must be submitted without JPL formal or informal solicitation. The proposal cannot be favorably considered if the work is already underway or planned. JPL is not obligated to award a contract even if the technical evaluation is favorable.
Submit an Unsolicited Proposal